Exhibiting at a trade show is a big gamble and large investment for your company. It has the potential to bring in hundreds of great connections and a windfall of revenue. At the same time, the exhibiting is expensive and if you don't make the most of the opportunity, it's a lot of money to waste.
No pressure.
That's why your trade show booth design is so crucial. It can make the difference between a show-stopping booth everyone loves and is drawn to, and a booth that is passed up and not memorable.
Need some inspiration for your next trade show booth design? Try these ideas.
1. Green Decor
In the middle of an exhibit hall, endless booths can look monotonous. One way to set yourself apart is by bringing in the outdoors.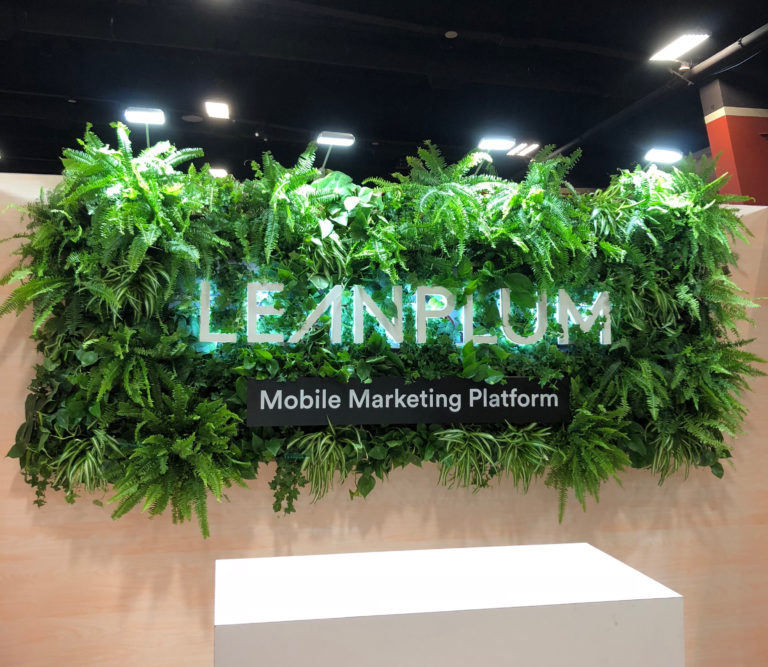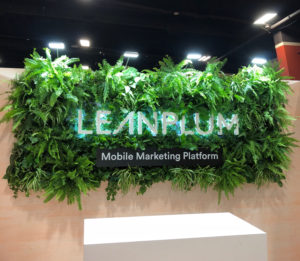 Include some greenery elements into your booth. It could be as simple as few well-placed potted plants. Or, various decorative indoor trees placed on the corners of your exhibit. Another fun trend is a living wall: a wall with a series of small plants.
This is an especially helpful design if your brand focuses on the outdoors or nature. It tells attendees in a snapshot who your business is while getting them interested in the change of scenery.
2. Photo Op Backgrounds
Check out the hashtag for any recent trade show and you'll see pictures galore. People snap pictures everywhere at trade shows. Why not use that to your advantage?
In your booth, include a photo wall in your design. It could be a fun step-and-repeat featuring your company's logo. It could be a way for attendees to pose with your product.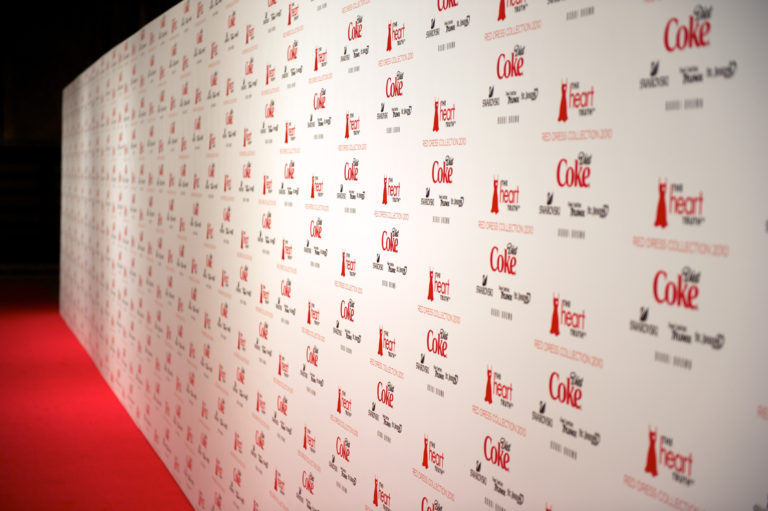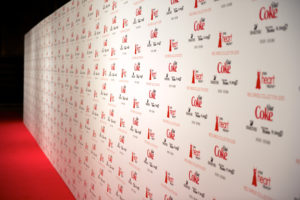 You can get more creative with it and have silhouettes with cut-outs where attendees can put their faces for fun pictures. Even adding in some fun props to pose with will draw people to your exhibit. Plus, it easily adds an interactive element that is essential to any successful booth or display.
Whatever you choose, make sure it includes your branding so it helps to get your name out there. Don't forget to encourage all your visitors to take advantage of the photo op.
Again, this is a great way to get attendees interacting with your exhibit, and it is an easy way to gain a social media outreach at the show.
3. Compartments
Most booths have the same basic design: four walls of graphic paneling or banners. There's only so much of that you can see before it bores you, and becomes overdone.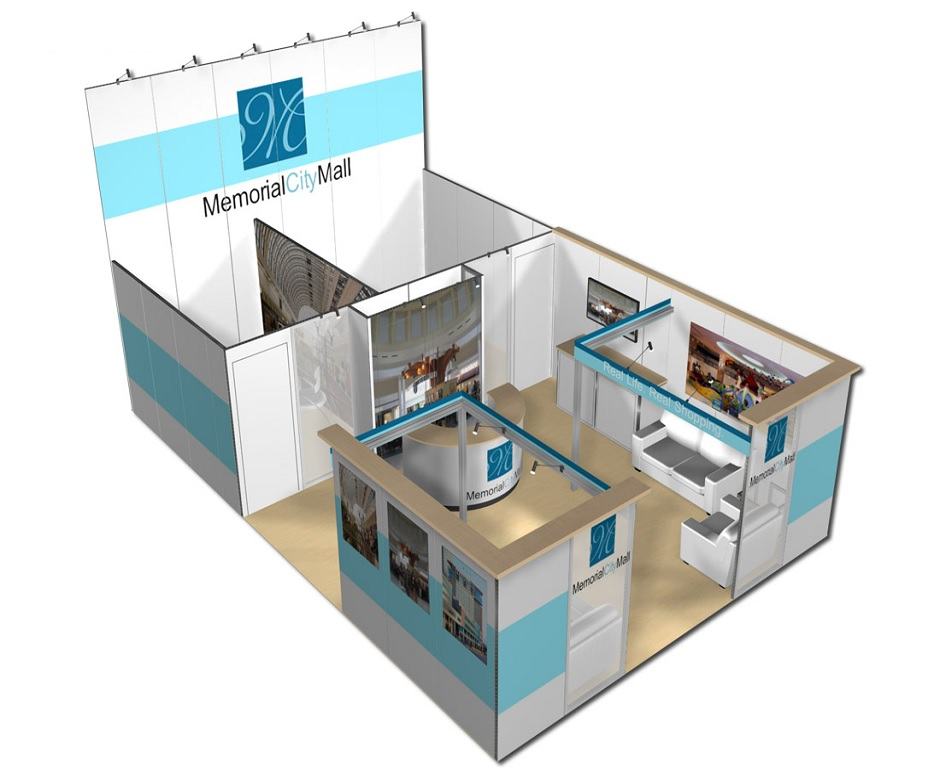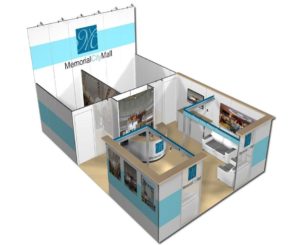 For more of an innovative design, try dividing your booth into designated rooms or compartments. You could have several rooms each dedicated to a particular product or service.
Having multiple rooms or compartments in your exhibit serves a few purposes. First, it can make your design look more complex and professional, standing out from the rest. Having a different layout than the structure of a typical booth will help you catch the eyes of show attendees and competitors alike.
Second, product-specific rooms can give your attendees a more immersive experience. For a few minutes, they're surrounded by that one product. In this specific area, they can take a deep dive to learn more about the products or service you are offering, and get a better grasp of how it may benefit them and their own company.
Finally, having multiple rooms can make space for more private, in-depth discussions with major prospects. Some exhibitors set up makeshift meeting rooms so they have a space for striking deals if the opportunity arises.
4. Interactive Exhibits
Put yourself in your attendees' shoes. How long could you look at canvas banners and hear one sales pitch after another before you tune it all out?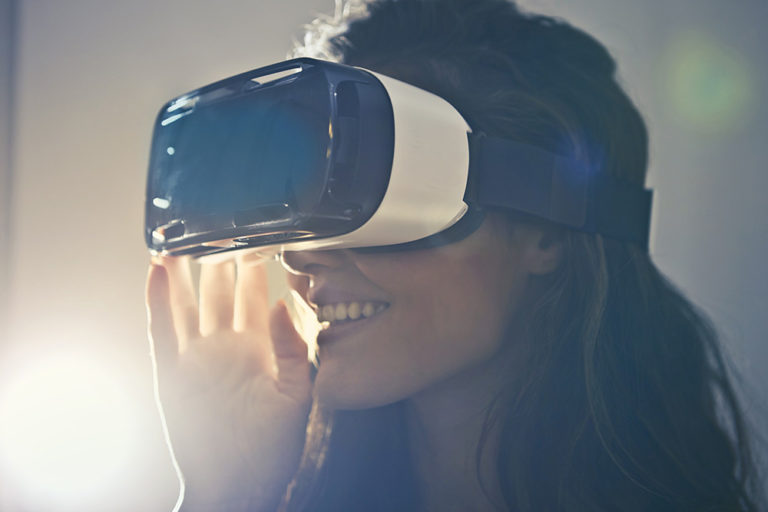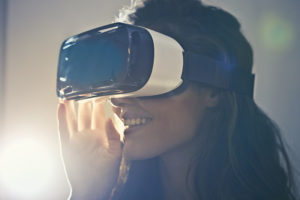 As an exhibitor, one secret to trade show success is to break the monotony. Attract attendees by creating interactive elements in your booth design. For example, let's say you make automotive parts. Have an area where attendees can touch, feel, and manipulate the parts to get to know them.
Sometimes it isn't about attendees having a product to touch, but being able to experience its effects. For instance, if you sell home lighting, create mini living spaces with your specialized lighting so attendees can experience the difference.
There are dozens of ways to add interactive elements to your booth. Find what works for you, your brand, and your product or service and incorporate that into your exhibit at your next trade show.
5. The Store Aesthetic
Sometimes the best way to get attention to your booth is for it not to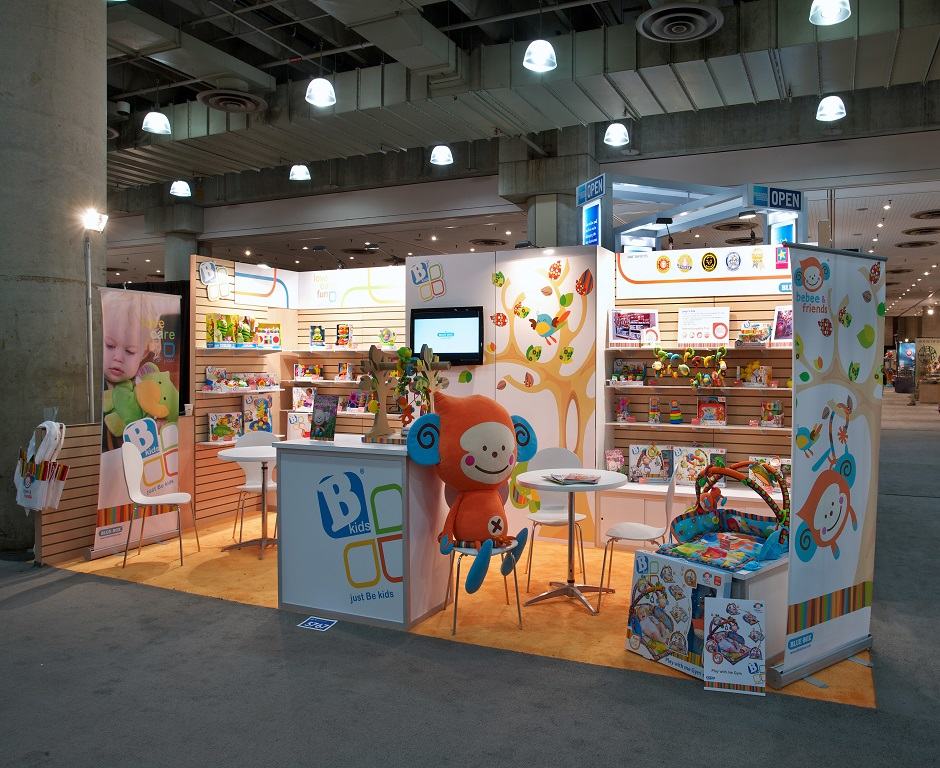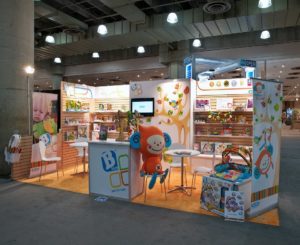 look like a booth at all.
Depending on your product or service, consider setting up your booth like a retail store. You don't have to sell anything, but have products on display just like you would at a store.
If your business has retail stores, make your booth mimic those designs. This gives attendees a break from the typical trade show booth look while furthering your branding. From then on, when attendees walk past one of your shops, they'll know it's you in an instant.
6. Keeping It Sparse
At a trade show, most exhibitors have the impulse of trying to get as much messaging into their booths as possible. After all, you've paid a premium for that space and you want to make the most of every inch.
If you want to stand out, go the opposite direction with a minimalist design. We aren't saying to have four plain white walls, but you want to keep the clutter to a minimum.
One common option is for a single large logo on your back wall. Along the sides, have a few shelves set up with products and displays.
For attendees walking past, this attracts them because your booth looks so different from the cluttered ones nearby. It also makes attendees more likely to stay in your booth longer because the design is less overwhelming and stressful.
Having an open concept design for your trade show booth also allows attendees and booth staff more space to move around. No one wants to feel crowded in a tight space, so an open design is sometimes a better idea.  In addition, the more open space, the more people that can fit into your exhibit. But, if you have a large booth space with an open concept, you'll want to make sure that you have enough staff and company representatives at the booth to tend to each and every potential client and attendee that visits.
7. Setting Up an Activity
As we mentioned above, people love interaction within a booth. Whether your product lends itself well to interactive exhibits or not, you can think outside the box and include other activities.
Set up your booth with a game that is on-theme with your brand or your product but focuses on giving attendees a fun break.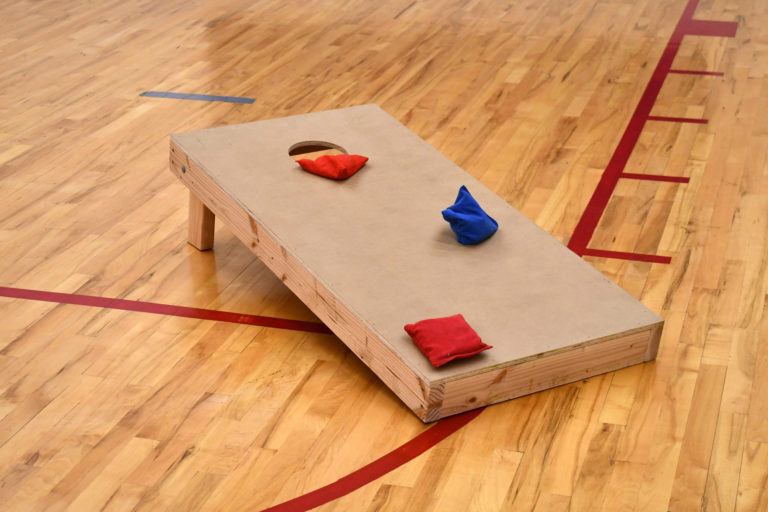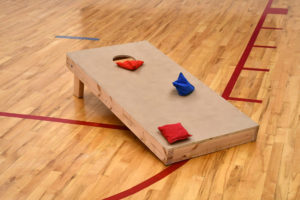 For instance, let's say your company makes stationary. Set up a game of cornhole in which participants toss notepads instead of beanbags.
The activity will draw in attendees who want a break from the endless drivel of sales pitches and it will make you a more memorable exhibit.
8. Full Enclosure
Most trade show booths focus on the essentials: four walls. Why not think above and below, too?
By adding a ceiling and flooring to your exhibit, you can create a more immersive look. When attendees step into your booth, they know where they are. It feels like a more intimate setting than a typical open-air exhibit in a trade show.
As an added bonus, ceilings and floors give you more opportunities to establish your brand. A false hardwood floor makes your booth feel homey and inviting.
Some exhibitors find this challenging because every exhibit hall's height is different. A simple gauze or sheer fabric draped across the top of your booth can serve as a flexible ceiling. It's easy to install yet it creates the feel of a distinct branded space.
9. Containing Yourself
Chances are that you've heard about the housing trend of remodeled shipping containers. People modify used or new shipping containers to create living spaces, offices, and more.
Why not bring that trend into your trade show booth?
You can use small storage containers or buy modular rooms you can assemble in the exhibit hall.
Not only does this set you apart by giving you a different look than your competitors, but it gives you flexibility in your design. If the exhibit hall has space, you could even have multiple stories.
10. Going Digital
Humans are predictable creatures: we're drawn to shiny, flashy things. You can take advantage of that by turning your booth into a digital utopia.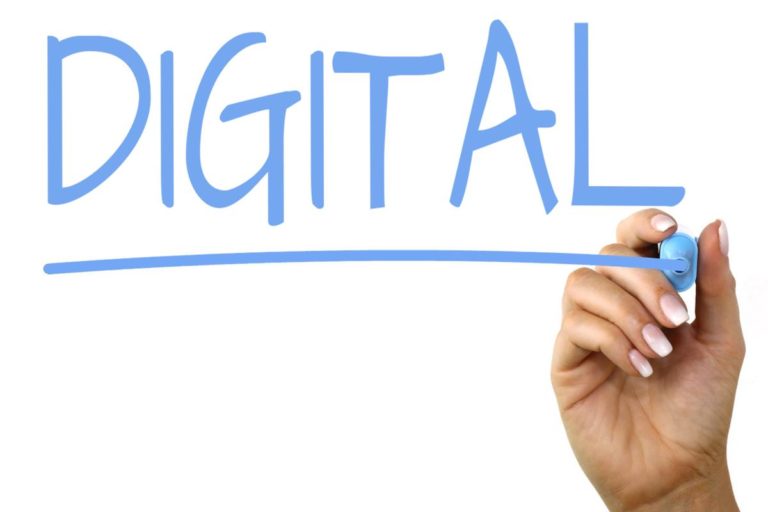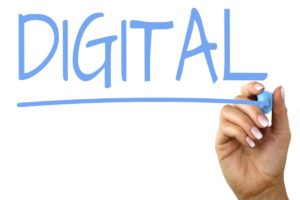 Digital signage is a handy choice for trade show booths for multiple reasons. First, the bright lights attract attendees as they're strolling past. Their eyes will naturally be drawn to your exhibit, giving you the opportunity to snag their attention.
Second, digital displays are easy to change. You can use the same equipment year after year to create displays for different products or using different themes. You can even change your signage from one day to the next so there's something new for attendees to see.
11. Creative Themes
When most marketers dream up their trade show booth designs, the "theme" they have in mind is their brand. Everything in the booth is made to tell attendees who they are.
Why not toss that rule out the window?
Consider a booth with a more creative or on-topic brand. You can draw inspiration from the main product you're trying to show off.
For instance, let's say you're a cruise line who has just started offering cruises to the Bahamas. Give your booth a beach theme.
This draws in attendees because it breaks from the dull corporate booths they're seeing everywhere they go. It also gives you a conversation-starter to chat about that product you're trying to feature.
Create an environment rather than the corporate, branded look. It shows that a lot of thought went into the design of the exhibit, and if done correctly, creates a theme that is unforgettable.
Creating a One-of-a-Kind Trade Show Booth Design
Coming up with a trade show booth design doesn't seem like a thrill because most people think of the standard, bland corporate look. A logo here, some messaging there, and that's it.
But, standard and simple usually isn't the answer — especially when it comes to trade shows which can be a highly competitive environment in your specific industry.
Having more fun with your design and thinking outside the box will make the trade show more exciting for your team and the attendees as well. It may be the one change you need to bring in more attention and create that revenue windfall every company hopes to get from trade shows.
To start exploring and dreaming up your design, shop our trade show booth rentals today.