Top Las Vegas Trade Show & Convention Venues
Las Vegas, Nevada is known to many as the gambling and party city of the U.S. However, the city has another strong reputation for the trade show industry at large. In 2017 alone, Las Vegas hosted 17,767 trade shows according to a Statista report. Clearly, the city has a high number of shows and supports some of the largest exhibiting halls in the United States. These include Las Vegas Convention Center, Sands Expo Convention Center, Mandalay Bay, Las Vegas Convention Center Door 9, Pack Expo and Las Vegas Marriot. With a multitude of venues, Vegas offers a unique location for exhibitors throughout the year. Below we are going to take an in-depth look into these exhibit halls!
Large Venues
---
The Las Vegas Convention Center is one of the largest venues within city limits. The center is 3.2 million square feet with 2 million square feet of exhibit space provided. Additionally, the location offers 250,000 square feet of private meeting space. The center also provides 144 meeting rooms with the capacity to sit 20 to 2,500 people. The location has also received the AIPC Gold Certification for organization practices, policies, and procedures. Furthermore, the venue hosts a number of shows per year including International Pizza Expo, International Wireless Communication Expo, Compass Conference, ToyFest West, ASD market Week, National Education Association, Digital Signage Expo, Nightclub and Bar Show, Travel Goods Show and Amusement Expo. The convention center is also within .5 miles of a number of hotels. These include the Westgate, Mardi Gras, Courtyard Marriot, Renaissance, Spring Hill Suites and Las Vegas Marriot. For more information on nearby hotels look here. Another added benefit is that the facility is located with 15 minutes of McCarran International Airport. Making it easy getting in and out of Vegas.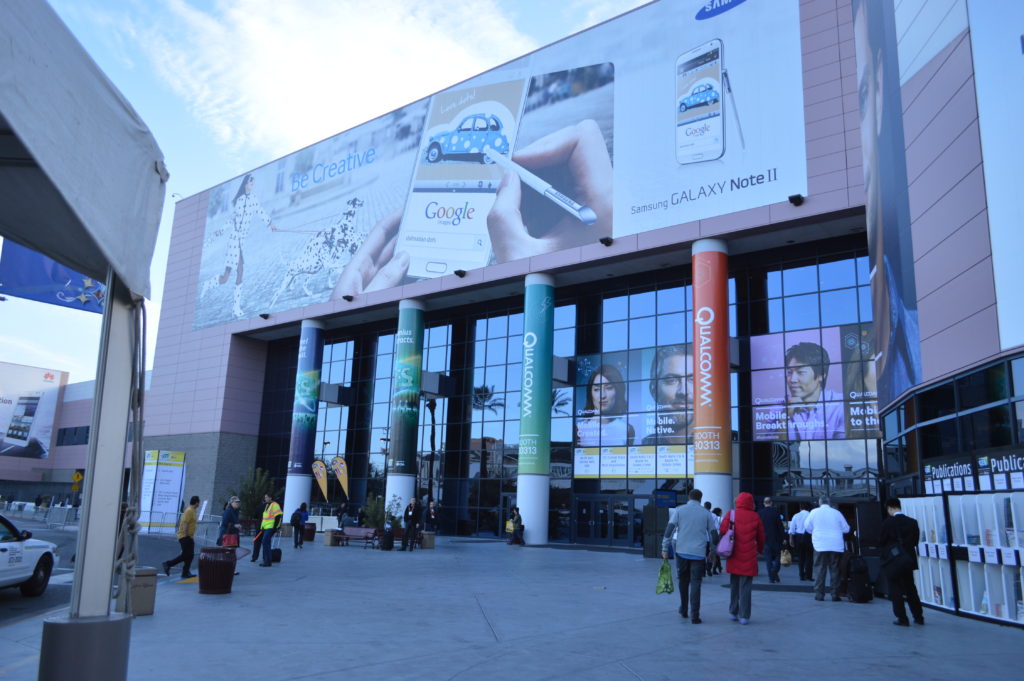 The Sands Expo Convention Center is another large expo hall located in Vegas. With 2.25 million square feet of expo space and 5 exhibit halls, this venue encompasses a large space for conferences and shows. The Sands Expo Center is also part of a larger building space called the Venetian. The Venetian offers additional more non-conventional spaces such as pools, theaters and even a restaurant located within the vicinity. The Sands center also has meeting rooms and a ballroom. Some example shows at the Sands include, Shop Talks, AAOS, Adobe Summit, ISC International Security Summit, Discover, IFT, Vision Expo and Conference and the Global Gaming Expo. The convention center also lies between a number of hotels. These include Mirage Resort and Casino, Encore at Wynn, Treasure Island Hotel and Casino,  Holiday Inn, Venetian and Harrah's. An added benefit of Sands is the locations close proximity to the airport for easy access to travel.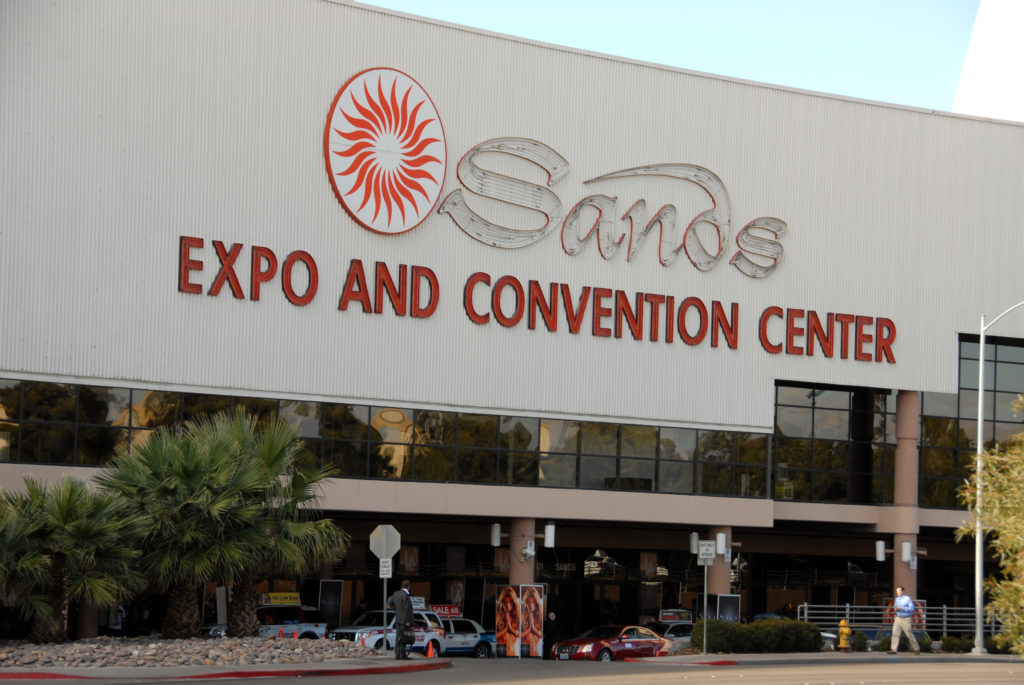 The Mandalay Bay Exposition Center is another large exhibition center. With 2.1 square feet of exhibiting space, this location is massive. The Mandalay is broken down into 6 major halls that can be combined into one. The Mandalay offers unique features in comparison with other convention centers. These include a beach complete with sand, shark aquarium with walkthrough tube and aquatic meeting space. The location is also next to McCarran International Airport, being the major transportation hub in and out of Vegas. Furthermore, Mandalay Bay is within a 5-minute drive of the Vegas Strip and has numerous hotels around. Some example shows at the Mandalay include Oracle Communications Conference, Led Show, International Pool and Spa Expo, AIM Expo, Ten X Growth Conference, Solar Power International, Western Veterinarian Conference and more. An added bonus to the venue is that it doubles as a hotel. However, if you are just attending the show these hotels are nearby, Delano, Excalibur, Tropicana, Desert Rose, Staybridge and many more. With close proximity to the Airport and downtown Mandalay is a perfect venue for exhibiting.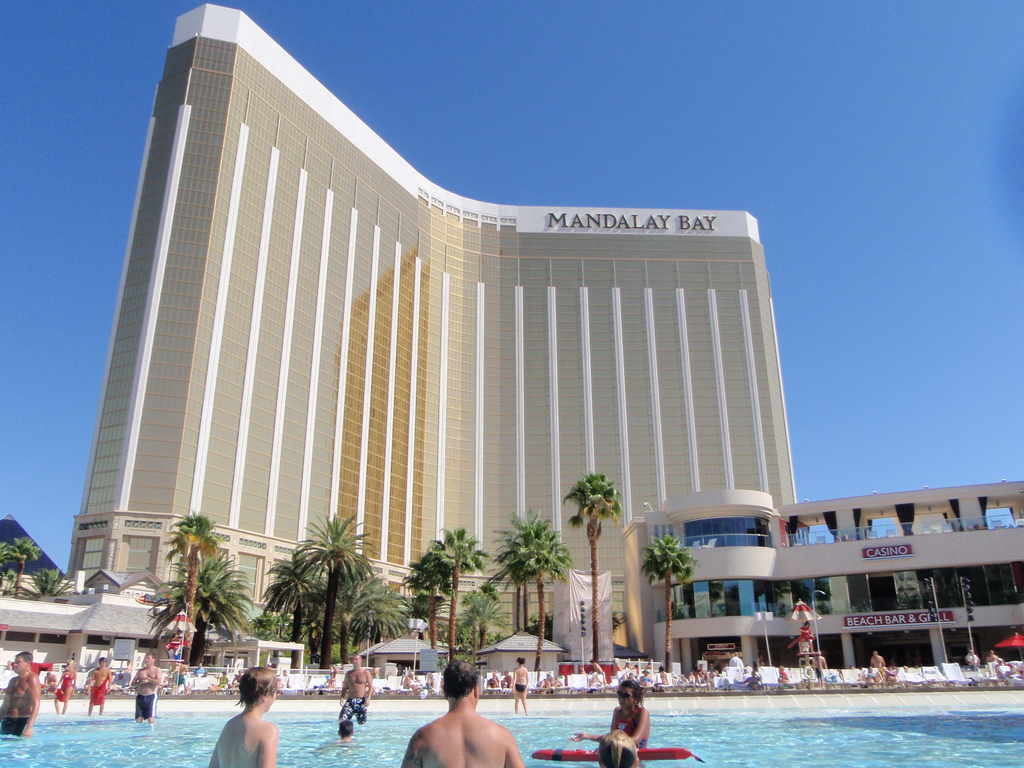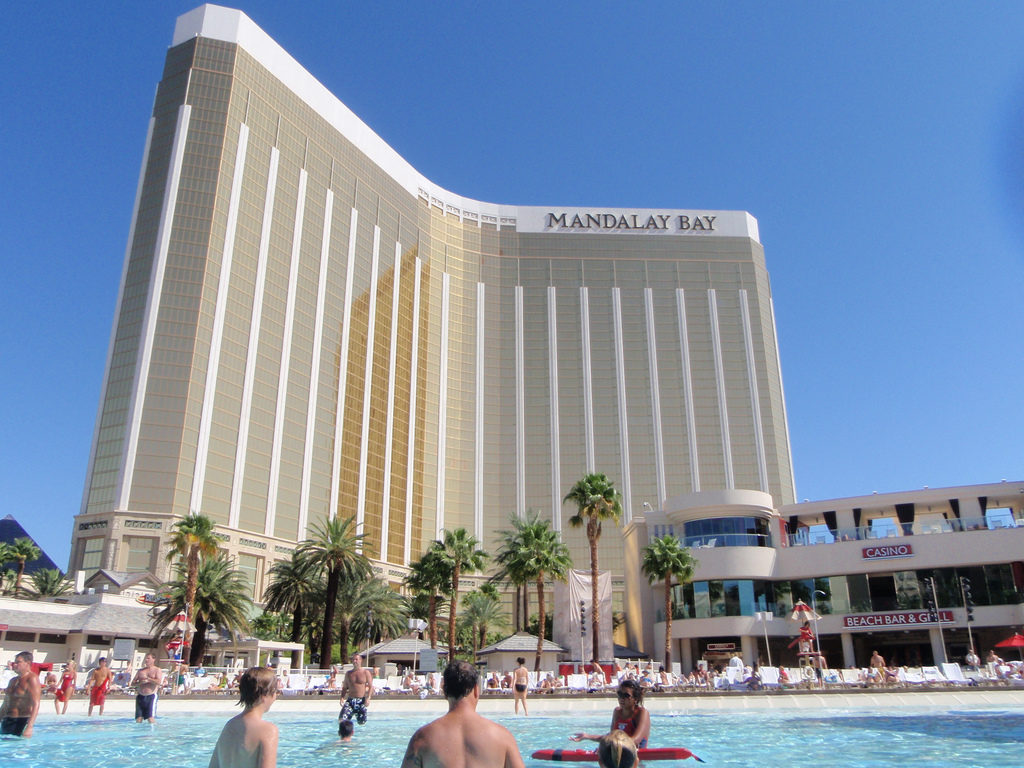 First opened in 1966, Caesars Palace in Vegas remains nearly as iconic as the Roman Emperors who inspired its name. Centrally located on the Strip, the hotel features Corinthian columns, Classical gabled pediments, and world-famous fountains. Meeting facilities include 300,000 total square feet and a reception capacity of 5,260 individuals. Its theater can hold up to 5,555 audience members. It's an elegant place for a trade show and a destination your attendees won't soon forget.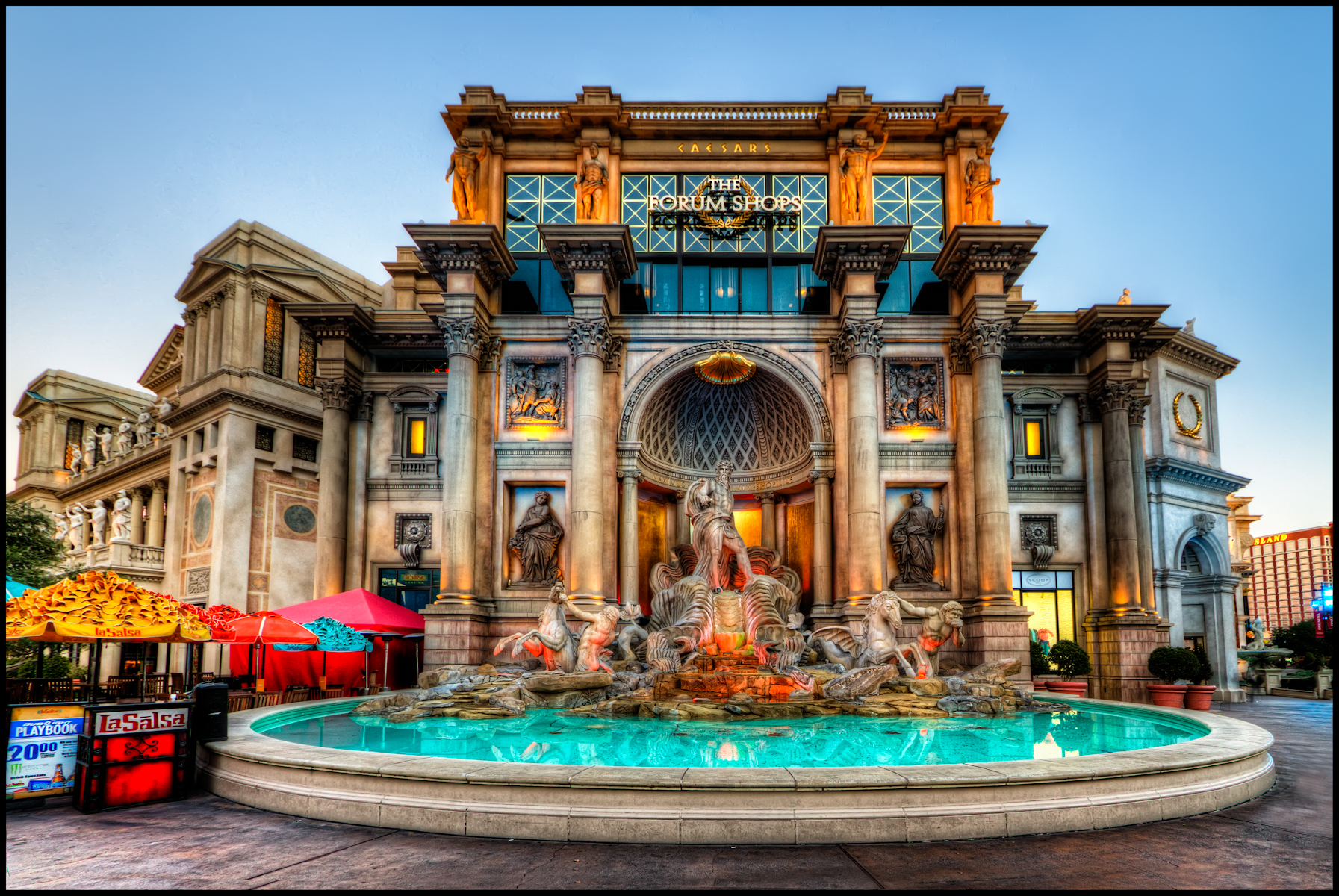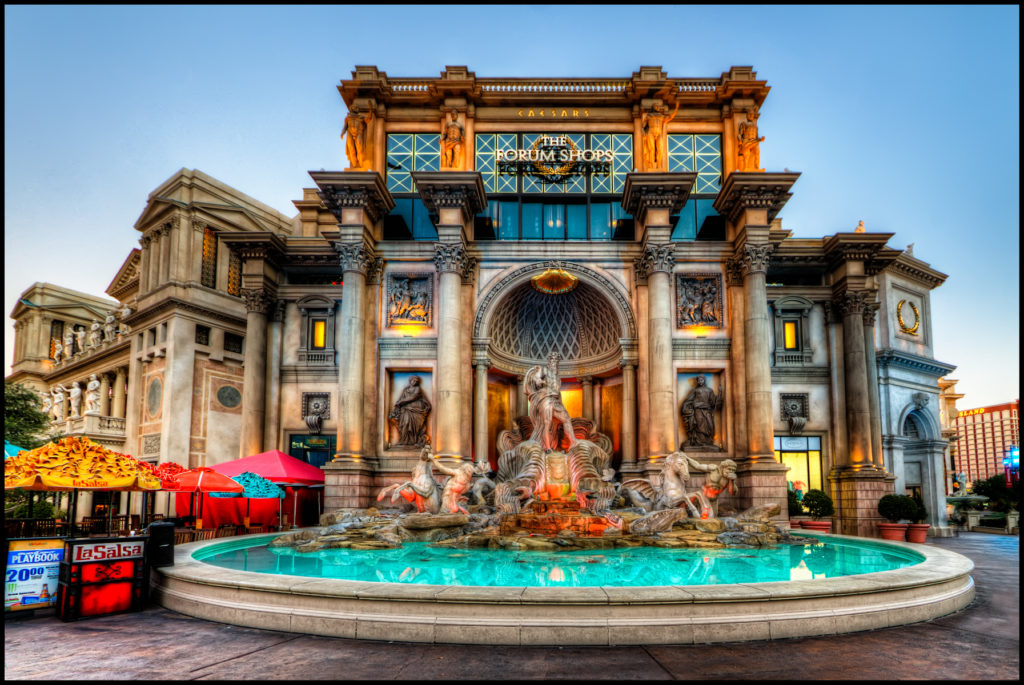 ---
Small Venues 
---
The MGM Grand is great for medium to small sized shows and conferences. The location boasts 380,000 square feet of exhibit space and is split into three floors. Another plus is the level 5 green key meeting rating. This rating means that the location provides clean air and eco-friendly technology to run the facility. If you are looking to check out the city at night the MGM provides transportation and is located downtown. The venue also offers rooms for show attendees to stay overnight for multi-day shows. Additional close proximity to the casinos is also another plus of exhibiting at the MGM. If you are looking for a smaller venue to exhibit the MGM is a fantastic choice.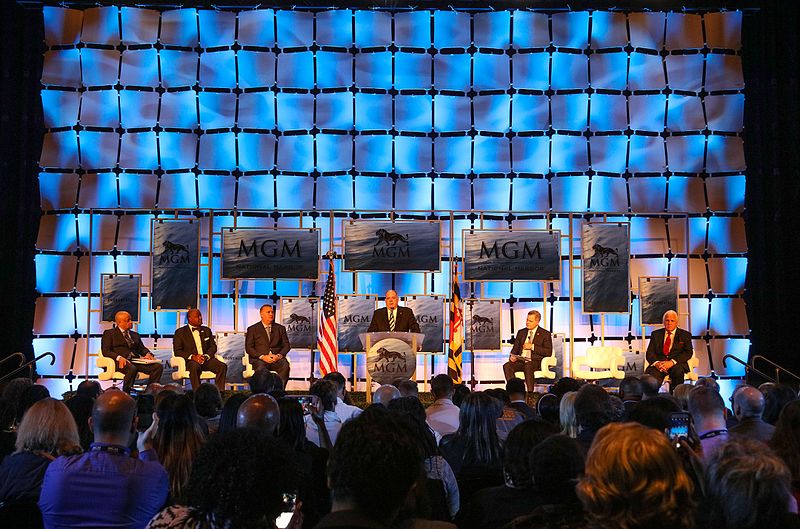 Located adjacent to the Las Vegas Convention Center and just a block from the Strip, the Westgate hosts 2.5 million guests each year. It also boasts 200,000 square feet of Las Vegas meeting space. Besides its obvious advantages, the resort features opulent decor and stunning views of the Las Vegas Valley. It also boasts a variety of food venues from Drafts Sports Bar and Grill Express to the Edge Steakhouse. The Westgate also offers monorail service for those who'd like to explore Las Vegas further.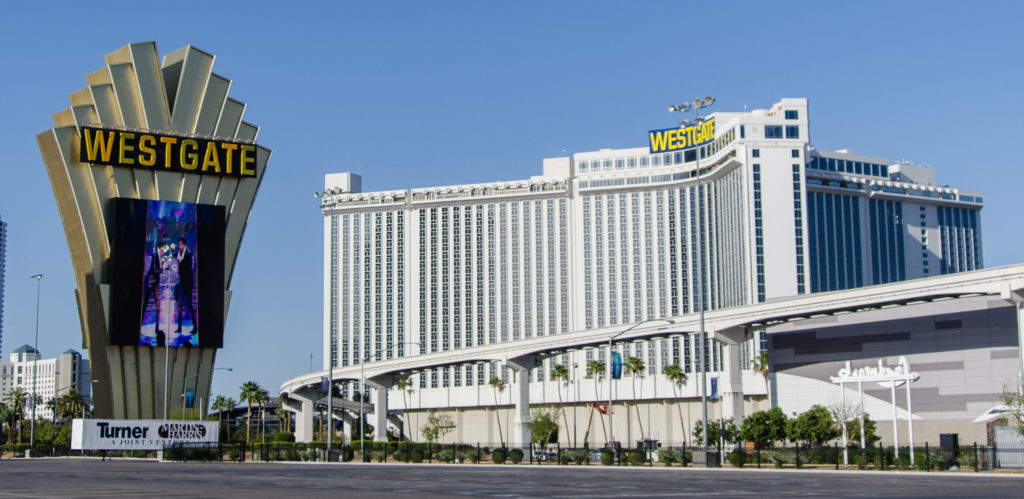 If you're looking for a site boasting panoramic views of Sin City's skyline and an elegant interior design featuring all of the latest amenities, then the Wynn is your ticket. Attendees to your trade show will love the Wynn's exclusive shopping promenade as well as waterfalls and private lagoons. They can also luxuriate at the award-winning spa and enjoy nightly entertainment such as Le Rêve and Lake of Dreams. The Wynn boasts a total of 200,000 square feet of meeting space and a reception capacity of 4,000. Its theater can hold 4,732 people. Each meeting room contains stunning floor-to-ceiling windows and individual terraces. The Lafite and Latour Ballrooms prove the centerpieces for the Wynn's meeting facilities. They offer 24-foot ceilings, built-in stages to accommodate a variety of entertainment options and column-free meeting space.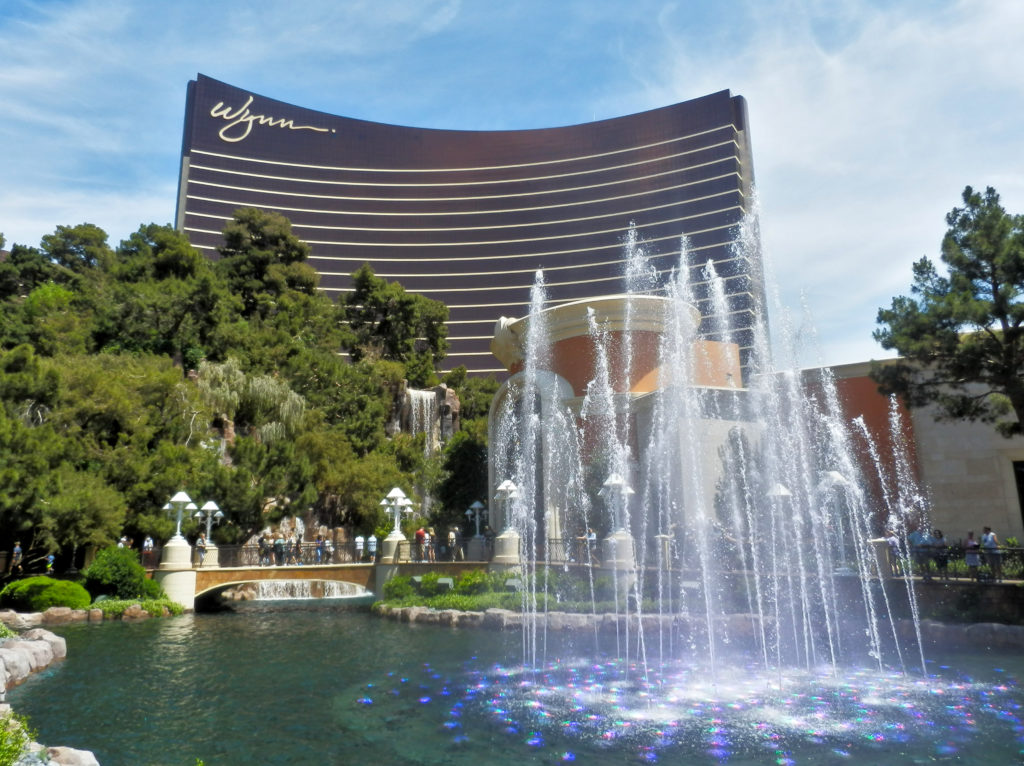 For a smaller show, the Las Vegas Marriot is a great venue. With just about 3,500 square feet of exhibiting space and a large ballroom, the location is ideal. The Marriot also offers ample meeting rooms and has a gold LEED certification for the building. Additionally, Marriot offers catering with a fully serviced kitchen and staff. Another bonus element is the hotel rooms located on the premises. Which allows show/event attendees to book a room in the same building as the event. Transportation to the airport is easy with just a 10-minute drive. Additionally, the venue location is smack in the middle of downtown Vegas for added entertainment. Overall, this location is a great sized venue for those looking for a smaller show/event.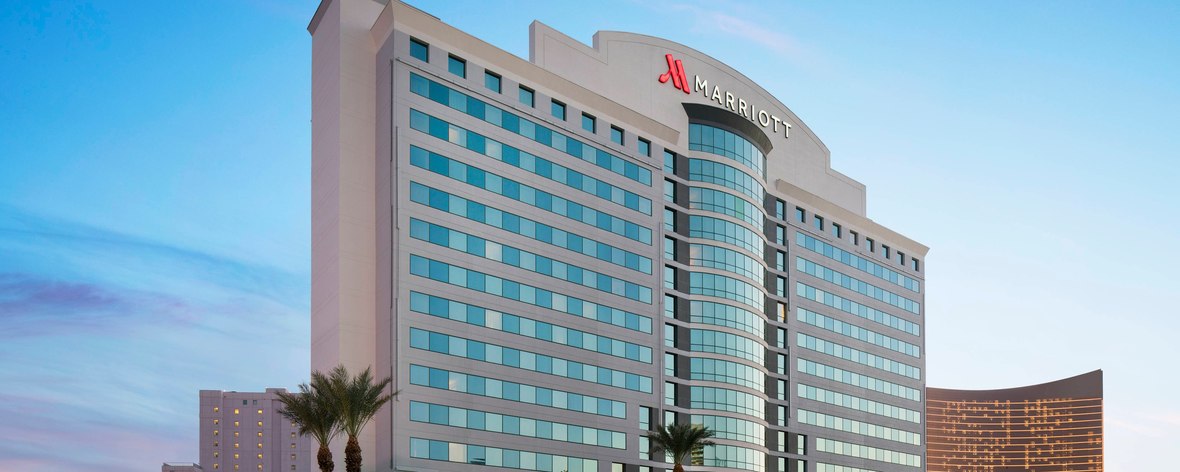 Another great venue for a smaller show is the Mirage Convention Center.  This venue is 90,000 square feet of exhibit space and can be broken down into three halls. These halls can then be broken down into a smaller venue size. The Mirage also uses fiberoptics and state of the art led lighting to promote the most updated practices. Additionally, the center doubles as a hotel making stay easy for multi-day shows. The Mirage is also conveniently located within a couple of blocks from the airport and Vegas Strip. Some of the shows held at the Mirage include Credit Con, Las Vegas Gem and Jewelry Show, Case Management Society of America, Splash! International Car Wash Association and Interop ITX. In total, this venue provides great value for exhibitors looking for a medium/small sized show.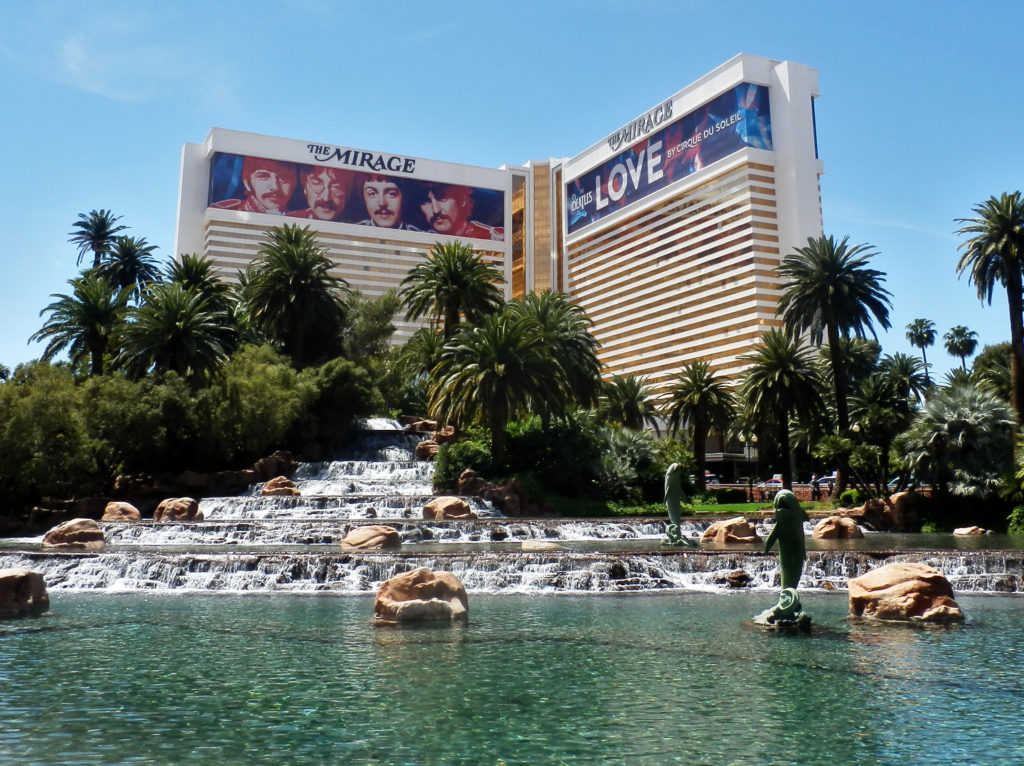 The Palazzo Ballroom 
The Palazzo Ballroom is a high decore venue located within downtown Vegas. This facility boasts 75,000 square feet of exhibit spacing and is part of the Sands Convention Center. With this location being a ballroom, it has the ability to break down into 16 smaller subunits. This is perfect for private meeting space and or prep area before a show. Another ideal use of the space is for presentations or guest speakers at a show. For more information on the Palazzo look here.
---
Top Beginner Tips for Exhibiting in Vegas
Is this your first time exhibiting at a trade show in Vegas? Not sure where to even start? We can help! We've put together this list of some key areas to focus on when planning for your event in Las Vegas, Nevada:
Budget
Make sure you have defined a budget that is aligned with your needs.  If you plan on exhibiting at multiple shows, then purchasing a full booth or display may be the best option.  If this is the first and only show you plan on attending, then the more affordable option of renting a trade show booth may be better.  It's important to weigh these options and decide what is best for your company.  There are numerous different routes that can be taken depending on your budget. And at Booth Design Ideas we work hard to try to meet your needs and stay within budget!
Timeline
Creating a set timeline for your event is an important aspect for anyone who plans to exhibit at a trade show.  However, it is especially crucial for first-timers.  Usually, anywhere from 6-8 months out from your event date is an ideal time to start planning your first step to your goal of getting your booth or display built.  What is not ideal is waiting until the last minute, especially if this is your first time exhibiting at a show.  Having more time will allow for a more complete and comprehensive end result.  In addition to your pre-show timeline, it's also important to allow additional time for any unforeseen complications that may be introduced.
Show Size
Many first time exhibitors often believe that the bigger the show the better.  While this may be true in some cases, it does not always work in your favor.  You want to make sure that you do the proper research before choosing any event.  This ensures that you will stand out from any potential competitors.  For example, if you know that one of your top competitors has a 90 x 90 booth locked down, your plans for a 10 x 20 spot might be overshadowed by such a large display.  Be careful that you are not exhibiting at shows that are "out of your league." While they may be tempting, if you are just starting out, it is best to start at a level where you are comfortable and work your way up to meet those high-end competitors.
Placement
Proper location of your booth is often overlooked but could be the most critical aspect as to whether your booth is a success or a flop.  Going back to our tip about timelines, starting the process early can also ensure that you have first-pick at where you would like your booth to be located.  We call these highly desired areas "sweet spots."  An example of a "sweet spot" is typically on the corners of a row. This location offers two entrance points for clients and extraordinary walk-by traffic.  Other "sweet spots" include the entrance to the trade show itself, which offers a point of high traffic and passersby.  The type of booth space that you book at your show is also something to take into consideration.  Inline, Island, and Peninsula booths are the common names for the type of spot that you reserve at a trade show.  Peninsula booths lie at the end of a row of inline booths, making them ideal because this is usually where consumers first look before heading down the next aisle of displays.  Although the placement and type of booth are both important, its how you use your space to display your brand that really matters.
---
After the Show 
One of the best things about Las Vegas is the entertainment it provides. Being known as the entertainment capital of America, Vegas provides a lot of additional entertainment post-show. These include a ton of casinos such as the famous Caesers Palace, Mirage, Hard Rock, Delano, MGM Grand and Luxor. If gambling is not your thing then check out some of the shows Vegas has to offer. These including shows such as Cirque du Soleil, Terry Fator, Absinthe, Le Rêve, Blue Man Group. Additionally, the famous "Strip" is another after show location to check out. With hundreds of restaurants and shops, the area boasts many amenities. In total, Las Vegas has a ton of entertainment options available for post-show. 
For More information on Shows and Venues throughout the U.S. Check out Metro Exhibits. Here you can find a ton of information as well as exhibit products.