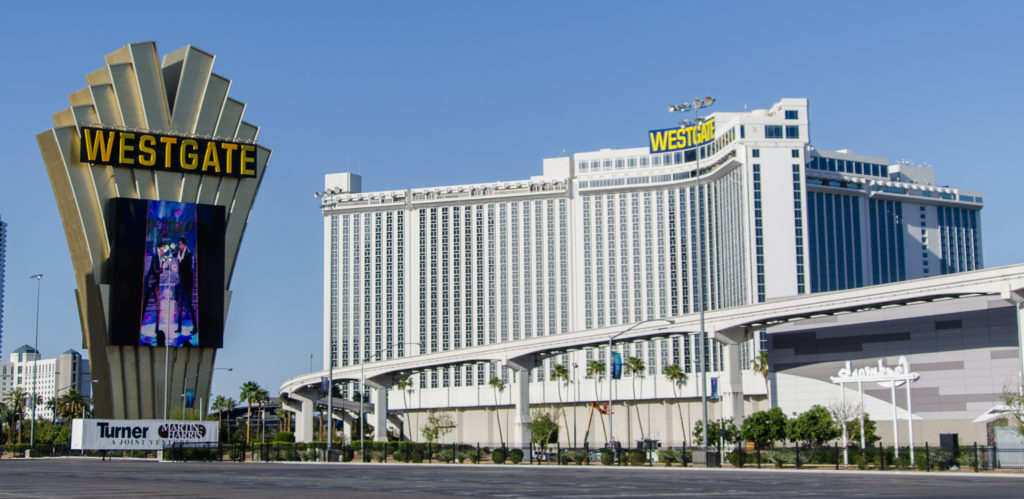 Located adjacent to the Las Vegas Convention Center and just a block from the Strip, the Westgate hosts 2.5 million guests each year. It also boasts 200,000 square feet of Las Vegas meeting space. Besides its obvious advantages, the resort features opulent decor and stunning views of the Las Vegas Valley. It also boasts a variety of food venues from Drafts Sports Bar and Grill Express to the Edge Steakhouse. The Westgate also offers monorail service for those who'd like to explore Las Vegas further.
---
Venue Breakdown 
Conference Rooms 
The Westgate in Las Vegas has 14 conference rooms available for use within the facility. All these rooms range in size from 400 to 600 ft in dimension. The conference rooms are also able to be configured in a variety of ways, fulfilling all needs. For more information on the conference rooms look here.
Ballroom 
The ballroom is another area used at the Westgate for conventions. With 35,000 square ft of exhibit space, the venue is great for holding small events. The location can also be broken down into 7 smaller sized conference areas for smaller events. For all convention needs and wants the ballroom is a great location to exhibit at.
Paradise Event Center 
The paradise is an event center broken into two major venues the south and north. The south making up 38,200 square ft and the north being 31,800 of exhibit space totaling for 70,000 square feet of exhibit space. This location also provides a loading dock for quick and easy movement of goods. For more information on the Paradise Event Center look here.
Board Room 
The paradise has an additional two board rooms available with seating up to 16 people available at the location. The smaller being able to seat 14 and the larger being the 16 people. Both come with full business layout and projector for presentations.
---
If you are planning on exhibiting at an event being hosted at the Westgate, contact us today for more information on how we can help.
Learn more about other venues in Las Vegas: Wynn, Las Vegas Convention Center, Caesars Palace, Las Vegas Marriott, Sands Expo & Convention Center, Mirage, MGM Grand, and Mandalay Bay.